imy
Monday, April 6, 2009, 12:12 AM
No matter what I say or do, there's

JUST

no getting over you....

That's why

IMY

like crazy.


T_T

Labels: quotes





the girl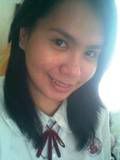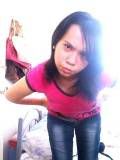 much much♥



Real Name: For you to know :) br>
Nickname: Steph/Paning/Teptep br>
Current Age: Sweet 16 br>
DOB: March 17, 1993 br>
Location: Philippines br>
Current School: Colegio San Jose de Alaminos br>
Year: Senior High School br>

------------------------------------------------------------------------------------------------------------------------------------------------- BR> br>
br>
You're will currently read a long story about myself. Nah! It will just take a lil' time for you to read.

Stephanie is my name. But my offline friends call me Paning or just plain Steph. I was born 15 years ago and the exact date is March 17 1993. Julia Winter and I have the same birth date. Haha.

I'm currently residing at Alaminos City, Pangasinan, PHILIPPINES. And studying in a Catholic school named Colegio San Jose de Alaminos. I've never been into a public school. Counting my days as a Senior High School Student and doesn't know what to do after graduation. I love makings friends, especially in school. That's the great thing about me. I can easily catch the heart of a person. Haha. Well, not everybody. br> br>

A sensitive Pisces Rooster is just as stubborn, yet not as blunt as others. I consider the feelings of others and avoids confrontation or discord. I'm full of energy and charismatic but also deeply sincere and compassionate. I consider myself as a great communicator probably because I do possess the ability to tone things down a bit. I have boundless energy that sometimes gets caught up in detail which causes a lapse in concentration. I still have to learn to appreciate detail but not to harp on it, otherwise I may miss the final destination. BR> br>

Other people says that I looked like a Korean, Chinese or Japanese. But they're wrong. I'm a one-fourth Spanish mestiza. With a wide forehead and chubby. I'm fat though I looked thin in my pictures. Haha. I love eating a lot and always craving for hot fudge sundae. I'm a certified dog lover. Actually I have four dogs. An internet freak who loves dancing and singing. And do believe that in every end of a tunnel there's always a light.


This way please
Yer Shouts

br> br>